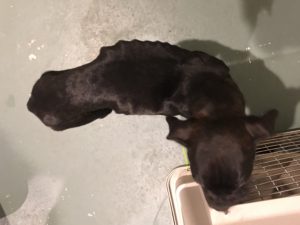 Three days before Christmas, the Middlesex Animal Control Officer received a call from a local resident who had found a stray puppy, in really bad shape.  The puppy was brought to our shelter that very cold night, literally skin and bones (only 10.6 pounds), dehydrated, and barely able to stand.
We named him Titus, for strength, and began a re-feeding program immediately.  When an animal is as malnourished as he was, it's dangerous to give him too much food and water.  We consulted with one of our veterinarians, and started Titus on sub-cutaneous fluids and a feeding schedule of small meals every three hours.  He probably would not have survived the night as a stray, luckily he was safe and warm with us.  Your most generous gift of $50, $100, $250 or more will help keep other animals warm and safe!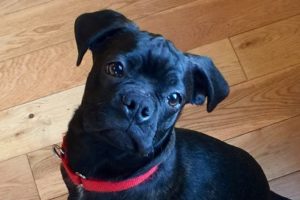 For a week he needed to be fed every three hours to safely bring him up to a healthy weight. He went home with a staff member every night so he could be observed and fed on his schedule.  It was touch and go for a bit but Titus rebounded quickly.  After he had been with us three weeks he was up to a much healthier 14.6 pounds.  Titus had an eye condition commonly called "cherry
eye" in both of his eyes (a prolapsed gland of the third eyelid) and now that he was at a healthy weight we had the corrective surgery performed for him.
While Titus recovered from his eye surgery, he was fostered in the home of one of our staff members where he grew to be a roly-poly healthy puppy at 17.8 pounds.  Titus finally had the chance to be the playful puppy he deserved to be, learning how to play with two canine sisters.  He still hated going out in the cold (who blames him after being a stray in freezing temperatures!), and his cheerful nature quickly won over his foster mom, and he now has a forever place in her loving home!  A very happy ending for this little trooper.
Can you imagine what would have happened to little Titus without CVHS?
Please help CVHS make miracles possible for other animals like Titus, make a gift today!