Who loves the smell of a wet dog? We do!  Join us on August 23 for Dog Day at the Pool and have tons of fun for at once-a-year doggie swim at the Montpelier pool. Pay it forward to save homeless animals in Vermont-  With your support, dogs saved by CVHS this year may enjoy Dog Days next year!  Admission is by monetary donation ($20 suggested per family).  Every dollar raised will help homeless animals find a new life and a happy home.
See you on Wednesday, August 23, 2017 (rain date: Thursday, August 24, 2017),  5:00 pm – 6:30 pm.
Dog Days Pool Rules: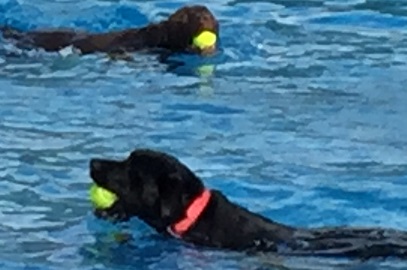  Please arrive with your dogs on a leash. All dogs must be off leash while in the fenced-in pool area to prevent leash aggression.
 Maximum two dogs per adult.
 Supervise your dog(s) for safe play with other dogs.
 Adults may only wade in the water to knee height. NO SWIMMING, NO CHILDREN IN THE WATER- No lifeguards will be on duty, water filtration system will be off- pool is for dogs only and dogs will be peeing/pooping in the water.
 Tennis balls, Frisbees and sticks are allowed.
Questions? Call 802-476- 3811 ext 110 or please email Linnea@centralvermonthumane.org.