Our 2024 calendars are in. If you ordered a calendar to be picked up, we have contacted you via email. If you had them shipped, they are in the mail and we have also sent you an email. If you have not heard from us and you did order a calendar, please email Sara at [email protected].
Thank you everyone! Congrats to our Top Three Vote Getters, Sonic, Jed&Leo, and Phoebe!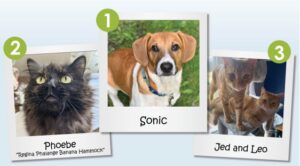 Congrats to the Top 13 who will be featured every month, talk about a calendar of cuteness! Cover photo to be chosen from ALL the photos submitted by an impartial panel of judges. To be announce soon, it is a tough choice this year! Thank you everyone who participated!