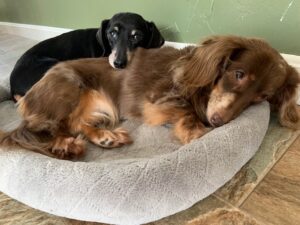 The love of animals binds us all. Tucker was a big dog with a big heart. His dad loved him so much, his friends were inspired to form Team Tucker to create a matching gift challenge since they wanted to save twice as many animals in Tucker's memory.  Well, this inspired more generous people and now we have a $21,000 Matching gift Challenge!  That is a lot of animal lives saved!
This $21,000 Matching Gift Challenge will help twice as many animals. Animals like Mimi and Misty.  Older girls, they both were in pain and needed significant medical care. We gave them the care they needed and they have been adopted into a loving home together!
We still have a ways to go – your gift today will be matched dollar-for-dollar by Team Tucker up to $21,000! Thank you!