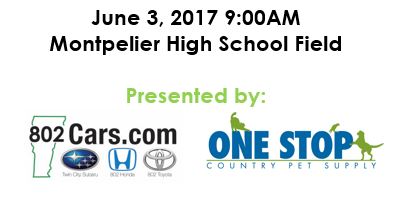 Please help save animal lives!
Join in the fun of our biggest fundraising event of the year. It's a family-friendly, dog-friendly event with contests, prizes, and an easy 2 mile walk through beautiful downtown Montpelier. Friendly dogs on leashes are welcomed but you don't need to bring a dog to participate.
All funds raised will help provide food, shelter, exceptional care, and find loving adoptive homes for over 1,000  animals in the coming year.  This year our goal is $70,000 and we simply cannot do it without you! Your contributions and efforts will directly save animal lives!
Can't come but want to help?
Be a virtual walker and raise money from friends and family.
Make a donation to CVHS today.

Donate or raise at least $50 and receive a souvenir T-Shirt – Pledge $50 now and reserve your T-shirt before we run out!  A minimum donation of $50 is required to receive a T-shirt.
Event Details
Enjoy a gentle 2-mile walk through beautiful downtown Montpelier, and fun activities for dogs and the whole family both before and after the walk.  Free Refreshments will be available!  Bring your dog, your friends, and your family.
Event Schedule:
9:00 – Registration Begins
9:30 – NEW – Dog Costume Contest
10:00 – Walk Begins
11:00 – NEW – Dog Demos, Dog Contests, Fun activities for dogs and kids
Culminating with the Award Presentations!
How You Can Help More Animals by Raising More Funds:
Form a team to multiply the fun … and the fundraising!
Groups of 3-20 people (friends, family, co-workers, etc.) may form a team to collect donations and/or walk together.  Each team member is asked to donate or fundraise a minimum of $50 and we encourage each team to raise a minimum of $500.  The team that raises the most money will win the privilege of judging the Canine Costume Contest, a $100 pizza party, and an award plaque. Individual team members may also compete for top individual fundraiser prizes.
Early Bird Prizes
First individual to raise $500
First team to raise $1,000
Early Bird Raffle – Help us out by delivering cash and checks to CVHS by

June 2 at 2pm

and we"ll enter your name in a special prize raffle
You may also bring donations with you on June 3.
Top Fundraiser Prizes
Top 3 adult fundraisers
Top 3 child fundraisers (through age 17)
Top fundraising team – the fun and privilege of judging the Canine Costume contest, a $100 pizza party and an award plaque
To qualify for top team prize, all team donations must be received by CVHS by June 2 at 2:00pm. Team members are also eligible to win individual prizes.
Top fundraisers will be eligible to win from a selection of gift cards and Vermont products.

Dog Contests – show everyone how talented your dog is!
Dog Costume Contest: 1st, 2nd and 3rd places
Best Dog Kisser
Best Dog Trick 
Other important info 
Friendly dogs on leashes are welcome, but you don't need to bring a dog to walk.
It helps us greatly if your cash/check donations are brought to CVHS on or before June 2.  You may also bring donations with you on June 3 but you will not be eligible for Early Bird Prizes.
For Vendor space please contact Linnea Cecere (see below)
Got Questions:  Linnea@centralvermonthumane.org  802-476-3811 x110