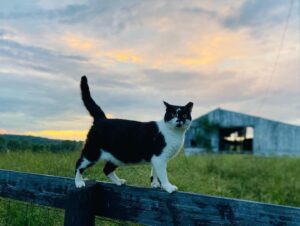 Adopting a Barn Cat can save a cat's life, and provide effective rodent control in your barn, warehouse, etc.
At Central Vermont Humane Society, we believe all animals should be treated humanely, with kindness and respect. While we prefer that felines live in the comfort and safety of a home, the fact is some felines who end up in our care simply cannot live indoors in close proximity to humans. For some cats, placing them in a home with people means they would live in constant fear and in great stress. Adopting these cats into a home with people would be inhumane. Some cats will not use a litter box, and need an outdoor life to be happy and successful. We do not place cats into a barn situation who can happily live in a home.
Our Barn Cat Program was created to prevent euthanasia of perfectly healthy felines who cannot happily live in a home, either because of litterbox problems, behavioral issues, or are under-socialized to humans. Some cats may enjoy a little human companionship nearby, and you'll find them watching you from a distance as you go about your barn chores; they may even rub against your legs, and hope for a treat. They are not looking for you to pick them up, or bother them when they are resting in a sun spot. We believe Barn Cats can serve an important function by significantly decreasing rodent populations in the barn (or warehouse, stable, brewery, etc). This reduces the need for poison, which often results in the death of the creatures who feed on rodents such as owls, hawks, and cats. Placing cats in a barn who are spayed/neutered and vaccinated results in controlling the population of outdoor cats while also reducing disease.
(This is not a program for feral cats, who are essentially wild animals, and we do not have a feral cat program at this time.)
Do you have a barn, warehouse, stable, brewery, or other outbuilding that could be a home to a Barn Cat? Please call us at 802-476-3811. A barn home is often the last chance for these cats. You can save a life!
What we provide: All barn cats are spayed/neutered, vaccinated, and microchipped. We provide consultation on how to successfully acclimate them to their new home.
What you need: Shelter in a barn, outbuilding, or stable, daily food and water (cats cannot live on mice alone), veterinary care as needed, and the ability to keep them confined for 3-4 weeks while they acclimate to your barn (such as a large crate, which we will loan to you).
Call us at 802 476 3811 if you have a barn/stable/warehouse/brewery, and are ready to adopt!