Kasandra Fleury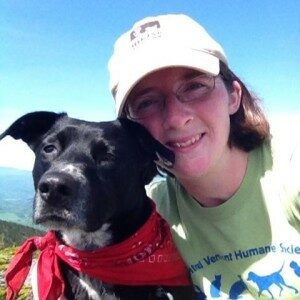 Kasandra offers classes for dogs of all ages and skill levels, from puppy kindergarten to tricks and games.
Kasandra lives in Braintree, Vermont with her husband and their menagerie of 4-footed critters. She shares her home with 2 gerbils, 4 cats and 2 dogs. If you attend a class with Kasandra, chances are you will meet one or both of her dogs at some point. Maggie is Kasandra's southern mystery mutt (most likely a cattle dog cross) adopted from a Tennessee rescue when she was a puppy. Kasandra calls Maggie her "heart dog" and the two of them can usually be found not far from one another, whether on a mountain or in a training class. Maggie is a true training assistant and joins Kasandra for classes whenever she can. Maggie has her Canine Good Citizen title and she is a certified Therapy Dog with Therapy Dogs of Vermont. Through this therapy dog program, Maggie and Kasandra visit local elementary schools where Maggie works as a reading dog -- she helps children gain confidence in their reading skills by reading to her. Maggie also helps Kasandra do dog bite safety presentations for schools. She is quite the comedian, and loves to show off her large repertoire of tricks. Maggie has recently earned the title of Trick Dog Champion with her demonstration of some rather difficult tricks, and she continues to learn new skills. Kasandra's other dog is Radar, a recent addition to the family. He is still a puppy, but under Kasandra's skillful guidance, he is learning new manners and tricks every day!
When Kasandra is not working, she can be found outside with her dogs. The three of them are out in the woods and on the trails as much as possible. In the winter she loves to snowshoe and watch her pups race through the snow after each other. Hiking is a true passion of Kasandra's and she loves sharing adventures with Maggie and Radar at her side. Maggie, especially, has led Kasandra up some of Vermont's highest mountains, and on some very exciting hikes over the years. Kasandra has tackled many of the highest peaks in Vermont and New Hampshire. Kasandra also loves to camp and her dogs are just as excited to hit the road to a new campground as she is. She also loves to write, animals being the most commonly used subjects in her stories.
Kasandra attended Vermont Technical College and graduated with her degree in Veterinary Technology. She worked as a veterinary technician at a small animal clinic for 9 years before deciding to pursue her dream of dog training. Kasandra attended the online college, Animal Behavior College, to earn her certification in dog training. She is now a fully insured Animal Behavior College Dog Trainer and believes in a force-free, fun and games approach to training. Kasandra has learned from her time working with other trainers, and from various continuing education seminars she has attended, but she credits her trainer mom with much of the dog training knowledge she has gained over the years. The many dogs Kasandra has had in her life have been some of the best teachers as well, and Maggie and Radar continue to teach her something new every day. Kasandra now owns her own dog training business, One Paw at a Time Dog Training, and offers group classes and individual training consults. She loves helping people strengthen the bond they have with their canine companions, one paw at a time.
Bill Grant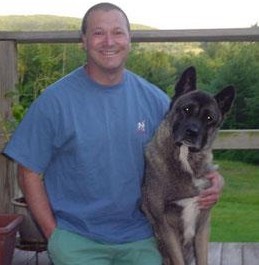 Bill has been training dogs and people since 1991. He uses his experience to help dog owners develop positive, loving relationships with their canine companions, and teaches people to work with their dogs in ways that encourages a partnership that lasts for life. Bill is highly recommended by many well-known dog professionals, business owners, and veterinarians for his kind, knowledgeable, and gentle approach in working with all dogs.
Bill helps people explore how dogs think, thus unlocking the possibilities for effective communication and learning. He believes that many of today's training issues are a result of "miscommunications" between dog and human. As these lines of communication are opened, many issues are solved. His classes are upbeat and fun for dogs and entire families.
Bill makes training a family process where all members are encouraged to participate. He focuses on teaching patience and consistency, thus creating an environment that allows dogs to flourish, and become a welcome addition to any home.
Bill teaches a variety of classes including Puppy Kindergarten, Good Manners, a recall class to teach dogs to come when called reliably, the American Kennel Club Canine Good Citizen class, and a class called Reactive Rover, for dogs that have specific challenges with other dogs and people. Bill also works with people individually on specific behavioral issues, and offers in-home training. Bill is also a partner at Green Mountain Pet Stop, which is an underground fencing company.
He currently resides in southern Vermont with two Akitas, an American Staffordshire Terrier named Gus, and a sassy little French Bulldog.
Bill had been involved showing dogs in conformation for years, and has led numerous dogs to championship level. He has also been recognized as an Akita Breeder and advocate for the Akita breed. He has been involved in Canine Therapy Work and has a number of training articles published. He has consulted with a variety of local and national rescue associations. Bill teaches at several locations, and also consults privately with dog owners, rescue organizations, breed clubs, and veterinary practices in Vermont, Massachusetts and New Hampshire.
Llyr Lauderback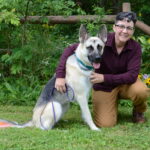 Llyr Lauderback (pronouns: he/him), CTC, is certified in training and counseling through the Academy for Dog Trainers and has been working with dogs and their humans for over 20 years. Llyr started his career as a "dog handler" while studying at NMSU and quickly discovered his passion for assisting dogs and their owners to achieve a harmonious living environment through the use of reward based/positive reinforcement techniques. In 2001 Llyr started a successful dog walking business in San Francisco, CA and quickly added dog training services to his business model after becoming certified in 2008.
After 20 years of operation in San Francisco, Llyr decided to move to Vermont with his partner and 4 pets and is currently residing in Plainfield. Llyr has 2 orange cats (Tutu and Louis) and 2 dogs (a 13 year old Rat Terrier/Chihuahua mix named Nata and a 2 year old German Shepherd/Husky mix named Lyra). Oh and they have 7 hens...we don't need to name all of them. 😉
Llyr has not only worked for himself as a dog trainer/dog walker/dog handler but also worked in San Francisco at the SF/SPCA assisting in group classes and working with shelter dogs. He also assisted in classes at SF Puppy Prep and other positive reinforcement dog training companies. When he relocated to Vermont, Llyr worked at Fetch the Leash in Burlington for a year as a dog trainer. Continuing education is very important to him and he is constantly attending webinars and listening to podcasts hosted by Suzanne Clothier, Denise Fenzi, Patricia McConnell, Kathy Sdao, Kim Brophey, Michael Shikashio and many many more.
At the beginning of 2022, Llyr launched his own private dog training and walking company, "Paws Up! VT," where he offers private one-on-one coaching, day training, and small group enrichment walks in the woods.