We need you!
Foster families are a critical resource for CVHS. Your gift of time and love extends the ability of the shelter to care for animals in need.
Foster Care Orientations are announced on our home page.
Candidates for foster care may include:
• Kittens or puppies too young for spay or neuter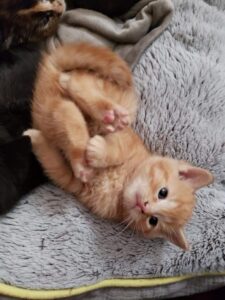 • Sick or injured animals
• Animals in need of socialization
• Animals in need of special training
• Any animal when the shelter is full!
CVHS can provide:
• Food and dishes
• Litter and litter boxes
• Medical care
• Crates/Towels/Blankets
• Informational support
Foster families provide:
• Clean home environment
• Fresh food and water
• Socialization and affection
• Administration of medications
Becoming a Foster Care Provider
Interested in fostering for CVHS? The first step is to to email us at [email protected] and we will contact you to help you learn more about our program and decide which types of animals would be best for you to foster.
We will then contact you when we have animals in need of foster care. You reserve the right to say "no" to any assignment we offer.
We ask all new Foster Care Families to attend a Volunteer Orientation within their first two months of providing care.
Foster animals may be returned to CVHS at any time for any reason.
Duration of Foster Care Assignments
Adoption of Foster Animals varies with the type of foster care you are providing. Litters of kittens or puppies must be at least 8 weeks old to return to the shelter. Animals sent to foster during a space crunch may only need to stay for a week. Minor medical care can be as short as a weekend stay. Some animals may require several months of medical or behavioral work. We will discuss length of stay with you before you accept a new foster animal.
Most animals return to CVHS after foster care to be made available for adoption. Some foster families will decide to adopt their foster animals, and some will have found loving homes through their friends and neighbors. All animals in foster must be adopted following CVHS's regular adoption process.