At CVHS, we know how much our pets mean to us, and how hard it is to lose them. This page is a special place to memorialize beloved pets, a page of love.
Luna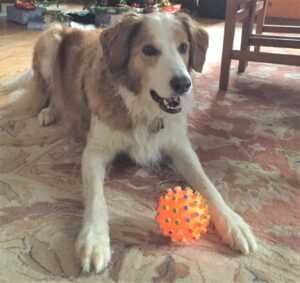 Luna was only 12 weeks old when she joined our family. Over 14 years later, she left us on Memorial Day, 2022. We were lucky to have 14 years with our sweet girl, who loved her ball, who did amazing zoomies all over our house, who needed to always rearrange the couch pillows just so, every single day. She was the original Evil Devil Puppy who chewed up our bookshelves, kitchen windowsill, and anything else made of wood. She left her mark all over our old house. Luna was our furry female, a beautiful dog with a magnificent tail. Her personality filled our house, and we will love our adorable girl always. --Laurie and Randy
Bella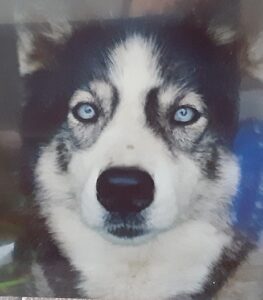 On a whim in January 2013, I went to CVHS to see the beautiful husky named Dona who was posted. As I wait in the room for her, the door opens and in comes this beautiful husky who is the spitting image of my prior dog Kiah, only 1/2 her size. What does she do but plop at my feet, roll on her back, and say "rub my belly?" I was sold. I brought her home and she filled my life with happiness for over 9 years. Bella passed March 11, 2023 after battling dementia for the last year. Despite losing sight in one of her eyes, going mostly deaf, and the dementia, it never stopped my crazy from her hour walk every other day and running 3 miles with me the other days. And boy, could she run and did that 50lb dog pull her master around. The vet said keep her active it would help with the dementia and it certainly did. It was her happiest time of the day. I am going to miss you dog#3 and I know you are in a better place with no more dementia. I love you Bella. -- Terry
Poncho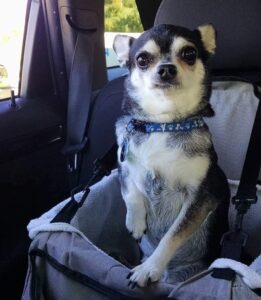 I remember that day you adopted me like it was yesterday. You picked me out of all those humans. Little did I know how lucky I was. You brought me laughs on the worst days. Your love got me through so many rough times. You always sat in your car seat like a well behaved child, you put up with being in the kayak when you hated water so we could be together, whizzing around in a basket on my bike when you were too tired to walk and moving here and there and everywhere. You took everything in stride. You taught me so much.When I had to let you go, I wanted to hold on, to hope, but you were tired and in pain. I am so lost without you, you are everywhere in my home and my life. But I know Teresa will take care of you now. Run to her, she loves you. Goodbye my sweet little man Poncho. I love you. - Thelma
Dakota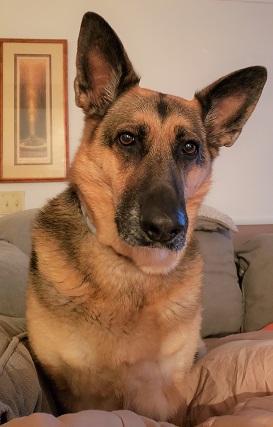 I lost my beautiful German Shepard Dakota March 28, 2023 to cancer; it was way too early. She was the best girl a person or her siblings could ask for. She was always there staring into our eyes, shadowing our every move. She never asked anything but to be cuddled and walked and always be near us. We will miss her dearly.. -- Greg
Patches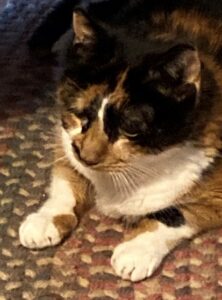 Patches came into our life from a shelter in Middlebury in August 2009 -we were living in Ferrisburgh at the time. She was a delightful whooper-tail kitty, who often slept between us at night. She was the love of our life! We miss her to this day! Now we have wonderful kitty, Miss Lillie, who came from Central Vermont Humane Society. Please keep up the great work of rescuing and finding homes for so many abandoned / homeless animals. -- Richard
Ozzie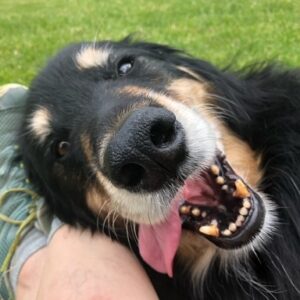 I adopted Ozzie back in 2008 when he was a four month old puppy, scrawny and sick with distemper. That skinny little pup turned out to be my once-in-a-lifetime dog. He got healthy and strong and at just one year old he became a certified therapy dog. He was absolutely bombproof and loved everyone and everything. He was the sweetest, happiest dog, and regularly participated in CVHS events. He could be seen marching with CVHS in Montpelier's Fourth of July parade (always delighted to be wearing his Uncle Sam hat), as the centerfold for the CVHS training brochure, the cover model for their 2018-19 annual report, and an exuberant participant at the Dog Days pool event each summer. I lost Ozzie to liver cancer in 2022, on Betty White's birthday, just two weeks shy of his 14th Gotcha Day. He brought so much joy, not only to me and my other dog, Alice Cooper, but to everyone who met him. We all miss you, my little baby dog. You are so loved. -- Jenn
Would you like to make a gift to
honor a beloved pet's memory?